When Manisha returned to Dubai with her second child in 2000, she had no idea what to do with her future or career. Manisha, who is a commercial artist by profession, had to look after the house until both children were a little older.
6 months passed in the confusion of how to spend the remaining time after taking care of the children. With that in mind, Manisha, who is very fond of cooking, decided to make home catering as her profession. She decided to start small. She started supplying Potato Vada, Sabudana Vada and Chirote in some supermarkets in Sharjah. Very soon the taste got clicked and the demand gradually increased. Not only that, but in the year 2002-2004, when she had no previous experience, for the first time, she made 250-300 kg of Diwali Faral items from her 1 bedroom apartment. The response and admiration she received, lead to definite path for her career.
In 2004, She got her 'first genuine break' by the way of catering order for 50 people for the Satyanarayana Puja Prasad for Dubai Maharashtra Mandal in 2004. The committee, headed by Shri Pradip Agnihotri, made every effort to co-operate, and from then her initiative took on a truly commercial form. The initial catering ability to serve orders upto 40-50 people increased to 80-100 people during the year due to increasing demand. The limited number of catering utensils, one-bedroom apartment, the pantry like kitchen, none of the above things hindered her obsession for catering. She was getting addicted to overcoming every difficulty in her life.
Lack of professional catering experience and domestic help, growing children, husband's new job in Abu Dhabi none of these could keep her away from pursuing her dream. No matter how many obstacles came, Manisha was determined to take her catering business to the next level. Witnessing the demand and growth in her catering business, Manisha expressed her desire to start her own Maharashtrian restaurant, and together with her husband, Sachin, she decided to convert her a hobby in to a commercial venture, under the brand name, Manisha's Kitchen Maharashtrian Restaurant
As always, she needed a funding or investment of approx. AED200,000/- to start very simple outlet. Negotiations were also held with various investors to raise funds for the project. But no-one dared to invest with her, she being a woman with children. They were unsure about her consistency and hard work required for the food business. Those who came forward withdrew after a short talk.
But Manisha and Sachin did not give up and started thinking about how to raise the required money on their own. They started looking for the right place for a restaurant in Karama and Bardubai. The budget was not very high and it was difficult to find a suitable place. Finally, after 6-8 months of extensive blood, sweat and tears, it was learnt that an old restaurant is ready to be sold in Sheikh Hamdan Colony in Karama. They went to meet the owner. The space was also a bit out of budget as it was bigger than expected. But it is said that whenever you have a good wish and determination, God comes to your aid in different ways. Mr. Suresh, the owner of that restaurant, knowing our financial difficulties, allowed us to pay the agreed amount in India and that also in rupees. Grabbing this golden opportunity, she made a bold decision to invest all their money. And with the help from his friends, Manishas Kitchen" was planted in the Karma-Bhoomi of Karama in January 2012, "
Now the real challenge was to get restaurant operational. With no experience in the restaurant sector in whole family, she decided to take baby steps herself, under the guidance of many experienced veterans in the field. She slowly excel in the various aspects of the business such as, deciding the daily menu, find different suppliers, solve employee problems or take care of the mindset of a discerning customer, etc.
In 2013, Manishas Kitchen opened it's first branch in Sharjah and in 2015 a bakery and confectionery plant in Ajman. All three branches not only produce and serve Maharashtrian cuisine, but also a variety of farali dishes, bakeries, sweets and other provincial food items.
Dhabeli-style Vadapav, Maharashtrian Filafil, Mix Sprout Cutlet, Steam Modak, Pooranpoli, Piyush and variety of Upwas items are some of the pride of Manisha's Kitchen. It's Namkeen, bakery and sweet varieties have now reached to around 800 supermakets in key 5 emirates. Her some prestigious clients includes, Al Adil Trading, Madhoor Supermarkets, Ramee group of Hotels ands many more.
In the journey, till date, Manisha's has earned her name and fame all around world, specially in the Maharashtrian community by the word of mouth publicity, without using any conventional advertising medium. Several prominent influencers and l media has acknowledged her culinary journey, i.e Loksatta, The National, I live in the frying Pan, Veggie talkies, True to taste.etc
The sole fighter Manisha has a big dream to take her brand on the global map and surely she will.
KEY ACHIEVEMENTS
Appreciation by GMBF
In 2013, Manisha's efforts were appreciated by "Gulf Maharashtra Business Forum (GMBF), Dubai chapter. She was interviewed and awarded with a certificate of appreciation. Watch her interview here.
Ahlan Dubai Recognition
Manisha's Kitchen received an acknowledgement from the Dubai-based Ahlan magazine for being one of the "Best Home Cooking" restaurants in Dubai in 2018.
Timeout Dubai Recognition
In May 2022, Manisha was interviewed by India's National Radio – Akashvani Pune and Vividh Bharathi 101.1FM. Listen to the recorded version here
Featured in Marathi movie
Manisha's Kitchen Dubai was also featured in Marathi film-"Shubha Lagna Savadhan". The one complete scene was shot at MK. Watch Trailer here
An Article on Manisha
In May 2022, Manisha was featured in Maharashtra State's popular daily news paper – Sakal – Read full article in Marathi here
Manisha on National Radio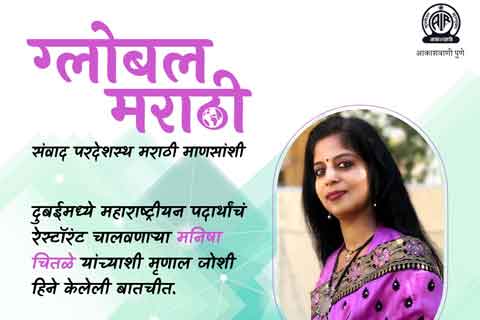 In May 2022, Manisha was interviewed by India's National Radio – Akashvani Pune and Vividh Bharathi 101.1FM. Listen to the recorded version here
Compiled and Written by – Sachin Chitale – A Prime Witness